August 2022 Newsletter
Hello Everyone
Seems like just yesterday spring was here, where did the summer go? Soon kids will be getting ready to go back to school. I think the older I get the faster time goes by.
The sad news first. It is with sadden hearts we will be saying goodbye to Lori this month. She has worked in this store for 13 + years and is ready for a new challenge in life. Although I am sad by her departure I wish her all the best in her future endevors. Lori will continue her current clubs; Tabletastic and Paper Piecing all year round throught the end of the year. Good Luck Lori!
It is fair season now, Jackson County Fair was last week and we had the wonderful local Riverbend Quilte Guild gave away 23 Quilts to veterans from Jackson County. I was glad I was able to attend. One gentlemen even asked for the mic an wanted them to know how much he appreciated this, as he had never been thanked for his service before. It is a shame that that is true, so make sure to Thank a veterans for their service, they and their families sacrifice/sacrificed alot to keep us safe. Thank you ladies for your efforts in honoring these soldiers.
To learn more about the Riverbend Quilt Guild's Service Quilts Project contact jcservicequilts@gmail.com to help. There are multiple local stores that give a discount for the fabrics used and on the quilting of which Old Alley Quilt Shop is proud to participate in both.
Martin County Fair is August 15th - 21st I will be there in the Martin County Pork Producers both helping with some delicious pork Aug 16th for 3 - 7 stop by and say hello. Our very own Briana Swanson's daughters Alsada and Kate Swanson will be showing sheep at the fair so stop by and say hello. Those young ladies did some wonderful painting on our sewing machines outdoors, they did such a great job.
It is also Quilt Minnesota Shop Hop time again so make sure you stop in to the SW regions 5 shops and get your free fat quarter bundle and pick up the newest fabric for your collection. Check out the section info HERE Our shop hop hours are Mon - Friday 10 - 5, Saturday, 9 - 5 and Sunday 12 - 5 from Now til August 20th.
OAQS is also hosting out first of hopefully many bus trips (first since I have owned it anyhow). This trip will be a 3-Day Bus tour to Primititive Gatherings in Larson, WI. Early bird pricing until August 31st so do not miss out on that price. Tell your friends this will be a fun trip.
Early Bird Pricing is $325 double occupancy $375 double occupancy $525 for single occupancy rooms - Lunch is included daily
We will stop at the following shops
Rather Bee Quilting - Lake City, MN ~ Pumpkinberry Stitches - Lake City, MN ~ What's Brewing Quilt Shop - Wabasha, MN ~ Quilting Nook and More Osseo, WI ~ Antoinette's Quilt Shop - Stevens Point, WI ~ Going to Pieces - Appleton, WI ~ Fox City Quilts - Appleton, WI ~ Primitive Gatherings - Larsen, WI ~ Quilt Corner - Sparta, WI ~ River Road Quilt Shop - LaCrosse, WI ~ Olive Juice Quilt SHop - Onalaska, WI ~ Pine Needles - Rochester, MN ~Calico Hutch - Hayward, MN ~ Old Alley Quilt Shop - Sherburn, MN
November 3rd - November 5th, 2022
Sign up now to take advantage of the discounted price! Pay in full or take advantage of the monthly installments.
Sign up pay $75 Down payment and the remaining will be automatically charged to your card evenly over the following three months. August, September and October. Triple occupancy rooms $83.33 a month, Double Occupancy rooms would be $100 a month, Single Occupancy Rooms $150 a month at the discounted rate.
Call the shop to get signed up 507-764-4088
***Note, we do have a cancellation policy for the trip there is No efunds within 30 day of the trip. However if the weather or some other unforseen thing causes me or the bus to cancel the trip we will postpone and redo it in the Spring/Summer next year. On another note we do have a bus minimum to meet if we do not meet that many people I will issue a refund, however I will know this Before October 1st.
We will be hosting another Stitchin Across the Nation Live Video on August 19th at 7 pm. So join us, I am hoping I have all the kinks out. I intend to have another Live show hereThursday night at 6pm to show all the new things over the last few weeks. I will be using comment sold and making this a Live Sale to make sure it is all working correctly for next week. Make sure to sign up ahead of time in Comment Sold HERE this will ensure you are able to hold the merchandise you want in your cart for the alotted time. They are sold first come first serve so this is important. Follow them on Facebook to see all the other great shops and their Live Shows at the end of each video you will get a link to 2 free quilt block patterns.
We still have the ByAnnie Trunk Show displayed at the shop come check out the fun bags. We even made up some kits for each bag that include the required soft and stable, vinyl, strapping, and interfacing if needed.
ByAnnie Trunk Show
Quilt Minnesota Shop Hop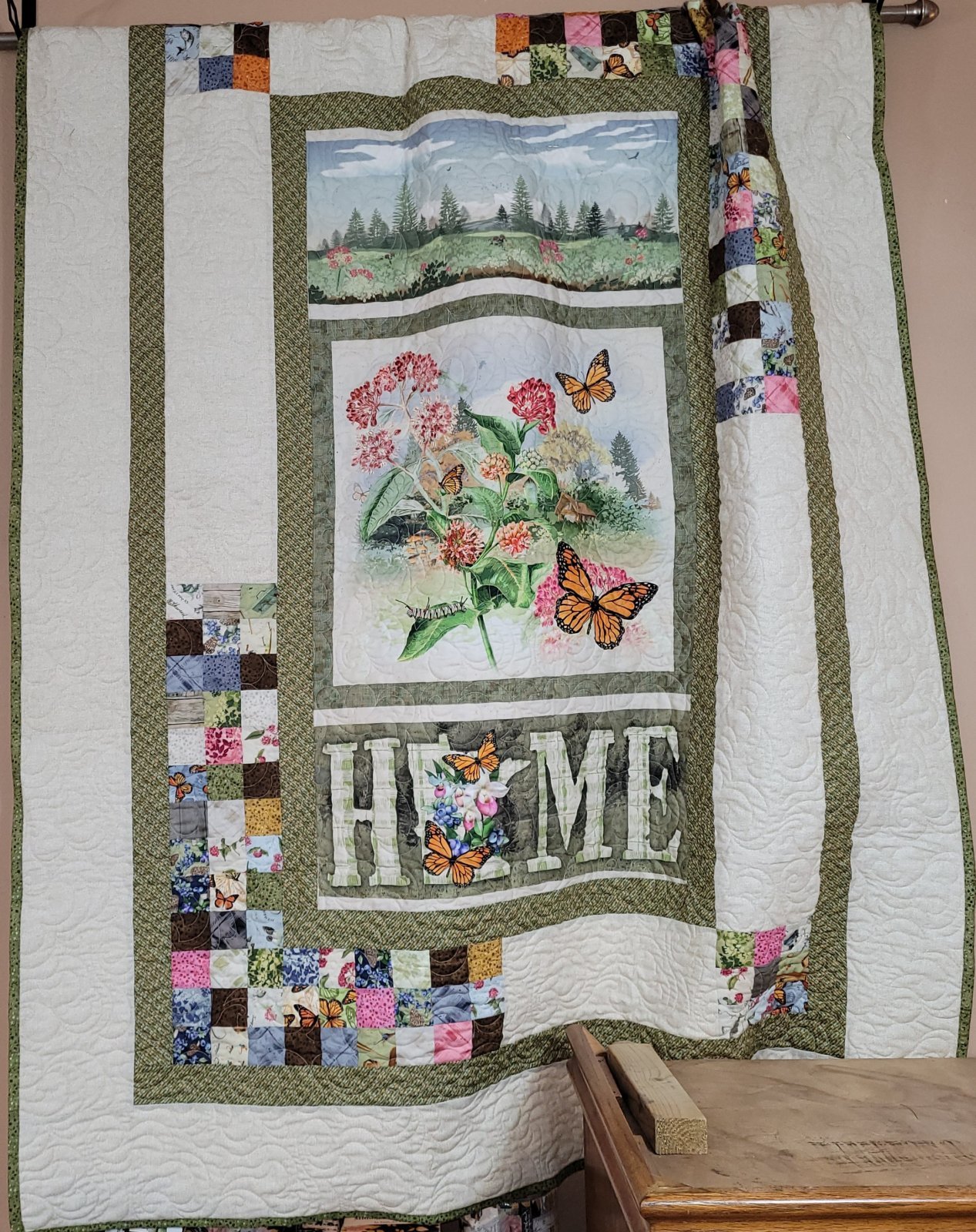 The Spotlight Panel Quilt
Measures 54 1/2" x 71 1/2" and includes the pattern
$90.99
Perfect Ten Kit
Measures 60" x 72" and includes the pattern
$105.99
Charm Runner Kit
Measures 18" x 59" includes the pattern
$31.99
Runner and Placemats Kit
Both Projects
Placemats measure 19 x 15, Runner measures 19 x 55 includes the patterns
$62.99
Shop the SW sections 5 great shops and receive this 12 fat quarter bundle. Also available will be the 2022 section cookbook.

Upcoming Classes

Sept 7th Wednesday 6 - 9 PM
Warm and Cozy Wrap



October 15th Saturday 10 - 3
Bomber Jacket
Sample in store - reviewing patterns for this stay tuned sample with child size



October 24th Monday 6pm - 8 pm
Fitted Sheet



November 3rd 6 - 8 PM
Snowman Pillow



Monday Dec 5th 6pm - 8pm
Slippers



Super excited for all those classes. More information coming soon

So enjoy your July and we hope to see you soon.

Valerie and the Old Alley Quilt Shop Team
---
Store Hours
Monday - Friday 10 - 5:30
Saturday 9 - 3
1st Sunday of every month 1 - 4