Hello Everyone,

We hope life is treating you all well. It is hard for me to believe that summer is almost over . I do LOVE Fall but it is hard to let go of summer weather. Football season has begun and I am excited to going to my grandchildren's games. As we get closer to October the temps decrease and being a fan becomes less comfortable. Last year I made my daughters family a game day. Fun piecing on front in their team colors and the kids jersey # and super warm Cuddle® on the back. Click on the photo for the Free pattern.


I think I might need to make a second one my 8 year old grandson just started this year with a new jersey oh and maybe grandma should have something warm too. We will see.

We also have some great Cuddle kits in team colors already cut and ready to sew. They are super fun, quick and easy. Sew outside only no piecing. If we don't have your colors packaged up we can surely make up a new one for you. We have available; Blue/Yellow [pictured], Black/Gold, Blue/Black, Purple/Gold and Burgundy/Gold. Click on the photo for availability.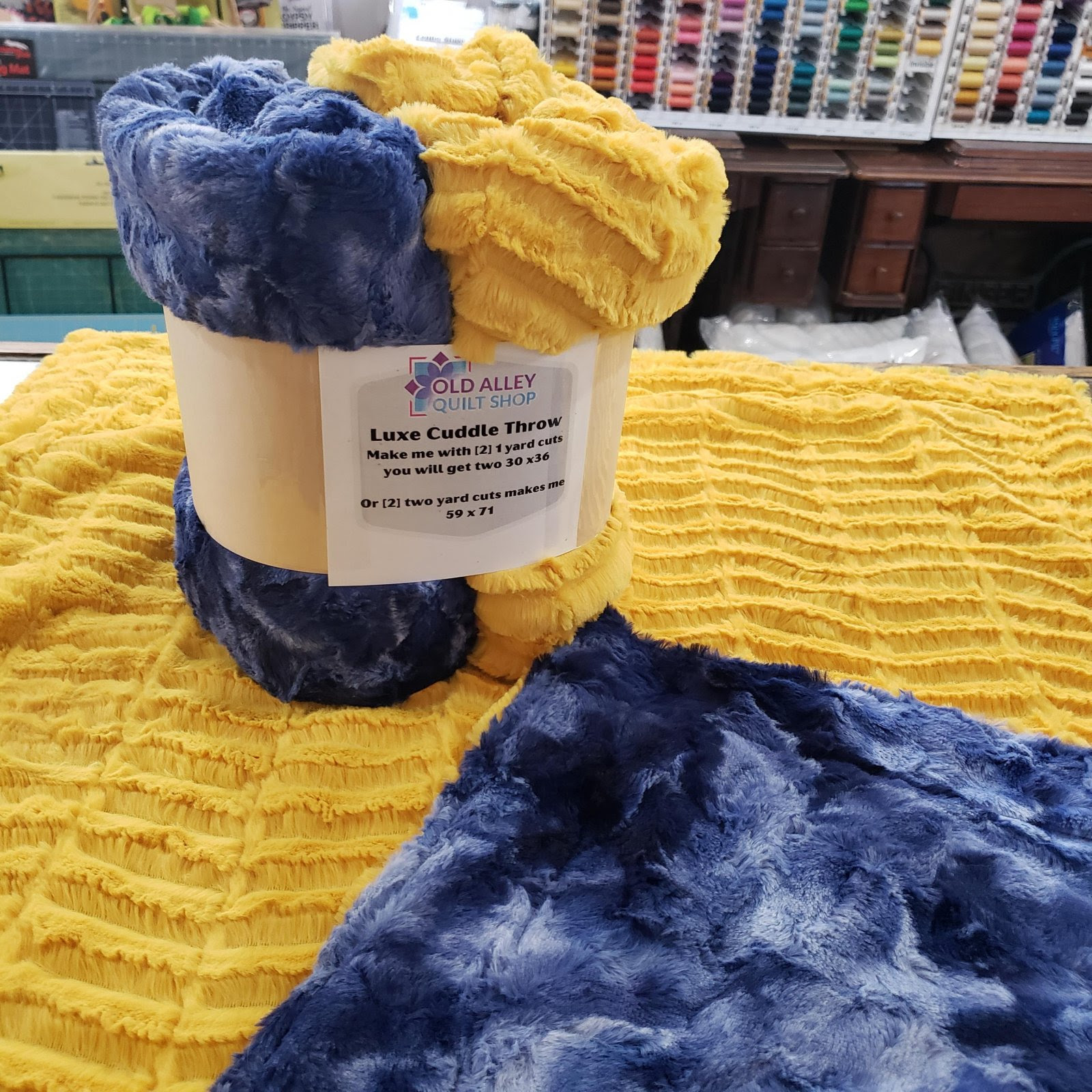 Quilt Minnesota has come to a close we are anxiously awaiting the Winners names. We want to Thank everyone that came out this year and supported the hop, we had such a great time meeting everyone.

So enjoy your September and we hope to see you soon

Valerie and the Old Alley Quilt Shop Team


---
Holiday Hours
Old Alley Quilt Shop will be closed on Sunday September 5th and Monday September 6th in recognition of Labor Day. Enjoy your Holiday and be Safe

New Store Hours
Reminder Old Alley Quilt Shop has new permanent hours.
Monday - Friday 10 - 5:30
Saturday 9 - 3
1st Sunday of every month 1 - 4

---
September is National Sewing Month
In honor of that we have lots to talk about for
September
Starting this month Old Alley Quilt Shop is partnering with Jaftex Corp to bring you
Jaftex Corp has put a lot of effort and expertise and creating this new platform that will grow our sewing community and expand it's members abilities. There will be more to come on this from our store in future emails. But feel free to click on the picture above to take you to the website.
Moda's Sew a Jelly Roll Day is Saturday September 18th. Lori will be hosting an open sew in our classroom. If you are interested please click the flier above and get signed up, it is free but there is limited classroom space. We will be setting up a Facebook page as well so we all can post our progress during the day. If you are unable to join us join the group and we will get you a free pattern to sew up your jelly rolls. Watch our Facebook page for more details on that.
https://www.facebook.com/OldAlleyQuiltShop
---
Events
Our Sidewalk Sale is being renamed and postponed. This will be an annual event but due to some Covid related scheduling changes I can not make it work in September. It will now be known as our Fall Bonanza it this year will October 23rd. Sorry for the delay but we will have some great sale items so add it to your calendar.

Looking for something to do Sept 25th and 26th COME SEE Lori and I at the Siouxland Samplers Quilt Show in Sioux City, IA at the Sioux City Convention Center
https://siouxlandsamplers.org/upcoming-2021-quilt-show-1
---