February 2020 Newsletter
The start of February always reminds us that there is hope for Spring especially when you have a 40 degree day. It reminds us here at the shop that we have some shop hops coming up. We are still continually getting new fabrics and new notions in. We have added some bag fabric to the store and new zipper and hardware options. (and yes there will be a bag class coming) As soon as I can get time to make my sample I will get that scheduled. We have also brought in some fun stuffed animal patterns and have just place our order for some fun minky/cuddle to make them with and yes I will have a class on that as well.

Don't worry we will be actual quilting classes as well. In fact Karla Schulz will be hosting a Braided twist table runner class next month on the 5th of March. And we have added a new Teeny Tiny Collage Class for Saturday April 25th see schedule below.

We should have our solids/grunge wall pretty full by the end of the week and the Batiks are being restocked now. Keep an eye on Facebook for all the new stuff coming in Lori does an excellent job of keeping you all informed.

We have a few other things going on as well Lori and I started the Moda Blockheads 3 sew along this year. It is a free sew along provided by Moda, there is a block a week for 56 weeks. We started a group check it out on Facebook and join us in the sew along it should be fun.

---
Contest

-
Moda has a Grunge Contest going on that we hope you participate in. It started on Saturday February 1st. Voting begins September 1st.

Fabrics. The quilt top and back must be made with Moda Grunge brand fabrics - and only Moda Grunge brand fabrics.
The collections include

Grunge

,

Grunge Hits the Spot

,

Grunge Metallic Hits the Spot

,

Grunge Seeing Stars

,

Grunge Metallics Seeing Stars

,

Grunge Metallics

and

Glitter Grunge

.
Type of Project. Any type of construction may be used to make the quilt - piecing and appliqué, embroidery, hand or machine quilting. But the work must be original - commercial patterns or books may not be used.
Size. The finished size of the quilt must not exceed 240" around. E.g., a 60" x 60" quilt will be 240" total size. A 60" x 70" quilt will be too big at 260" total size.
Finished Quilts Only. Quilts must be quilted and bound to be considered in the final judging. Since shops will be submitting photos of the quilts, the quilt must be completed when the shop makes their choices and takes the picture.
Quilt Label. The quilt must be labeled, and it must include the Maker's name, the Quilter's name - if different, the city and contact information of the Maker.
Limit on Entries? There is no limit to the number of quilts you can enter at your quilt shop. But each shop can submit only one quilt to Moda as their entry for the 2020 Grunge Contest.

Prizes? The top three quilts will have their quilts hang in the Moda booth at Fall Quilt Market 2020 and receive cash prizes. First prize - $2,000. Second prize - $1,000. Third prize - $750. The quilts will be returned to the Makers after Fall Market.

Hope you are all as excited ass we are for this contest we have been adding more grunge to our collection don't see something you want ask us we will get it on order. Let your inner creative spirit shine through.
---
Class Schedule
Braided Twist Table Runner
-
Instructor Karla Schulz Date March 5th 9 am - 4 pm $25 lunch is included.
Come learn how to make the magical braided twist table runner. Try this unique technique for a quick runner with no quilting, no binding, and minimal curve piecing. The beauty of the Braided Twist in its simplicity! Call or stop into the shop to sign up now. Stop in and Check out the Store Sample.
Receive 10% off your Braided twist tool and book when you sign up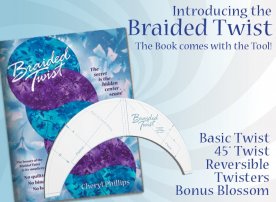 Laura Heine Collage Class
-
Instructor Lori Adamiez April April 25th this is a two day Class $50 j
oin us in creating your own artistic fabric collage using the Laura Heine technique. One day of fun creating one of Laura's Teeny Tiny size fabric collages! Warning: You will become addicted!! We have all the patterns and supplies available in the store and ready to go.
---
Upcoming Hops
Triple Delight -
This will Start February 10th and run through February 29th. There are 3 Shops Crafty Corner Quilt Shop in Worthington, Old Alley Quilt Shop in Sherburn, Prarie Quilts in Windom. We will be giving away a Stella Lamp valued at $249 and (3) $50 gift certificates (1 from each store). Pick up a card at any store, spend $30 in each store to complete your card. Once your card is filled you turn it in to be in the drawing for these prizes.
Also we have discounts. Feb 10 - 15th is 20% of Notions, Feb 17 - 22nd is 20% off Patterns and Feb 24 - 29th is 20% off Fabric
Country Roads
-
April 1 - 4th There are 6 great stores on this years Country Roads Shop hop. Crafty Corner Quilt Shop (Worthington) Prairie Quilting (Windom) Old Alley Quilt Shop (Sherburn) Michelle's Quilting (Blue Earth)The Humble Heart (Wells) and Prairie Pride Quilting (Madelia) Shop Hours are Wed-Fri 9 - 5 and Sat 9-4. Some shops may have longer hours check their websites ( We are open on Wed and Thursday night until 7 pm)
Prizes include 6 $100 gift certificate and a door prize in each shop. 10% Discount Storewide and a Progressive pattern "A Country Christmas Window" You can pick up a piece of the pattern in each shop and a finishing kit will be available at every shop (pick our favorite)
Crossing Borders

-
April 25 - May 2nd
MN Shop Hop

-
J
uly 31st - August 16th
The Row x Row has now been Changed to Quilters Trek https://rowbyrowexperience.com/quilters-trek/ which starts in May 22nd and ends August 31, 2020 more information to come.
Make sure to follow us on Facebook and like our page. I think Lori might have something cooking for Facebook (might have something to do with how much you like and comment)
Valerie Smith
Owner
Old Alley Quilt Shop
115 N Main Street
Sherburn, MN 56171
507-764-4088